After 34 years at KPBS, Broadcast Operations Manager Mimi Belger retired in December. We asked her a few questions about her broadcasting career.
When and where did you start in broadcasting? If this is your second career, what did you do before?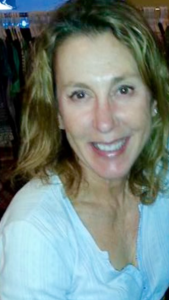 Mimi: I studied broadcast journalism at West Virginia University in the 1970s. My first job in broadcasting was running a parabolic mic on the sideline for Joe Paterno and Penn State football.
Did you get higher education in a field related to broadcasting? Where?
While getting my Masters degree at The University of Texas at Austin I taught broadcast news writing, editing, and studio production. The students would break the same things over and over and I learned to fix them for self preservation. Some things were tough—the RCA TK45 [cameras] were so big, and I'm so small, I couldn't see in the viewfinder and reach the knob to set back focus at the same time.
You got an FCC First Class Radiotelephone License, which was rare for a woman. How did you train for it?
It interested me, so after graduation I moved to San Diego and studied on my own for my First Phone. I also had friends at that time who mentored me in projects. I wound crossover networks for speakers and at home we had a TV with Motorola "works in a drawer" so I could easily see the results of tweaking this or that. I also wound wire into a big loop and covered it with duct tape and attached a power cord to make a portable degausser.
When did you start at KPBS and what did you do at that time?
I passed my FCC test and started at KPBS in 1981 as an Engineering Shift Supervisor.  No maintenance, just operations stuff like bringing the quad servos into tolerance so the tapes would play. Also ran 16mm film, both mag sound and optical sound, into the telecine.
Tell us a story or two about your career at KPBS.
Well, being PBS we ran slides in station breaks back in those days. One time I forgot to load the slide carousel and, sure enough, an executive tour was in the control room.  The operator lapped the slide only to have a blank gate come up on air.
I just puttered on. Tried to mentor a whole lot of operators, developed lots of workflows, and tried to be the protector of all things coming out of news and out of production, bound for the viewers.
What have you liked or disliked about the changes in broadcasting over the span of your career?
I remember a noisy room back in the very beginning of my career. Signals were coming in on AT&T long lines. Then it became a lot more quiet and more fun in the days of satellite receivers. Now it's back to a lot of noise, with the rooms full of servers and fans. I could do without the noise and the cold.
You've been a regular at local SBE meetings, and at one time, a member, no? 
Yes, for about 10 years prior to last year I was a member and was a Certified Broadcast Technologist.
Any plans for retirement you would like to share?
Travel! Australia/New Zealand, Vietnam/Cambodia, and Chile/Argentina are on the short list. My husband Mark is retired from SAIC.