If you've been in TV broadcast engineering management at any time over the past 27 years, you've had the pleasure of working with Dennis Younker, Cox Communications Headend Manager, regarding getting your signal on cable TV. He's told you if you had issues with color, lip-sync, signal dropout, and even digital drift or jitter. In other words, he's had your backside. After 43 years in the business, he's hanging up his keys and will be doing exactly what he wants to from now on. Dennis sat down and wrote this memoir about the cable business and his part in it for SBE 36. Enjoy.
By Dennis Younker
I started my cable career in late 1977 in Lancaster, CA with a company called WGN Electronics. They served Lancaster, Palmdale and Edwards AFB. The company was owned by the Tribune Company…yes, the same one that used to own WGN, the Chicago Tribune and The Chicago Cubs baseball team! When I started at WGN, we had 12 channels, all analog. We carried various L.A. and Bakersfield OTA stations and one movie channel that we generated ourselves via Sony ¾" U-matic VTRs and a CATV modulator.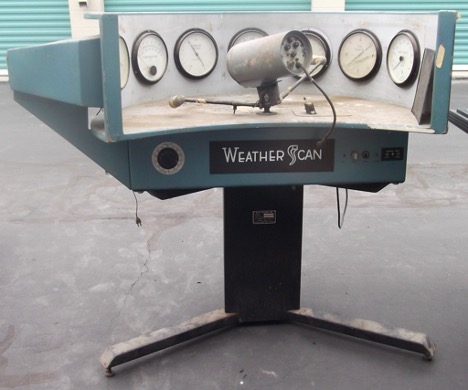 Of course, we had the obligatory weather channel, consisting of a camera that scanned instruments back and forth. All of the sensors were there at the headend. The clock display, much like banks even today, was never accurate. And sometimes the camera motor got stuck, usually between meters and not dead center on any one meter.
I think our cable service cost $6.50/month plus a few bucks more for our optional movie channel. HBO via satellite would come to us in 1978 when we installed our first satellite dish, a 4.5 meter Andrew with a 120K LNA and Heliax into the building.
Soon after, other programmers launched on Satcom I, what would become the cable satellite at the time. I added more satellite receivers and modulators to keep up. WTCG-TV17 Atlanta (later WTBS and then TBS) was the second to launch if I remember correctly, followed soon after by others like USA Network. We launched four of them in the mid-band frequencies between Channel 6 and 7 where most TV tuners couldn't go. We supplied cable converters (early analog STBs) to subscribers that wanted those channels.
In 1981, I caught wind of a fascinating-to-me new programmer about to launch. Music Television. Not the MTV on the air today but the original. All music videos all the time. They had something new called VJs, Video Disc Jockeys. I set up a satellite receiver in the back room where HBO, WTBS and the other receivers were and ran baseband video from it to my Sony monitor. I didn't catch the actual launch but was there later in the week to check it out. I was in my 20's back then and as you might imagine, this new channel totally captured me. I watched it every chance I could in that back room and one day our GM came in and asked what that was I was watching. I explained that it was a new satellite channel called MTV. He was in his 40s I think and equally mesmerized. After 20 minutes or so, he left the room muttering that he needed to make a few calls. It couldn't have been more than a couple of weeks later when he hit me up. "Do you have a receiver and modulator to put that music channel on our cable system?" Heck yeah, I do! And that's how Lancaster, CA became one of the early markets for MTV.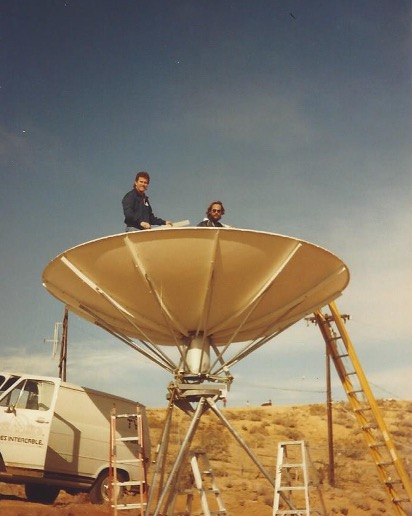 When the Tribune Company bought KTLA in Los Angeles in 1985, it was forced to sell our company (by then known as Antelope Valley Cablevision) due to FCC rules limiting the number of media outlets a company could own in one market. With Antelope Valley Cablevision being in the Los Angeles market, the system was sold to Jones Intercable.
In 1980, the space shuttles were built in Palmdale and ultimately rolled out to Edwards AFB on city streets, then fitted onto a 747 jet and flown to Florida for launch. We would climb poles on the streets between Palmdale and Edwards to lower cable drops that crossed the street because they were lower than the tail of the shuttle and would get torn down otherwise.
Some of my friends and family worked on building the shuttles, and it seemed like the vast majority of jobs there were working on the shuttle. Naturally, all of us there felt like they were "our shuttles." So naturally, I, without any permission from the GM, set up our trailer-mounted satellite dish, a spare satellite receiver and modulator and put NASA TV on its own channel on the cable system the day of the shuttle launches for the entirety of the missions. Our customers loved it! I think our GM secretly did, too.
In 1986 though, we were a little late in getting set up for the Challenger launch that year. We did, however, get the dish up, peaked the signal, then fed it onto our special analog channel about an hour before launch. 10…9…8… etc. And off it went. And then… something was not right. Smoke trails were going in odd directions and I remember saying under my breath, something is wrong. It was a minute or two or three later before the narrator on NASA TV spoke again. It seemed like forever. We all held our breath, standing outside gaping at the TV tied to our little satellite dish. NASA TV said, "Mission Control reports there has been an anomaly" or something like that. By this time, the smoke trails were headed downward and it was obvious to us Challenger had blown up. We looked at each other and asked, "an anomaly?" It was devastating.
In 1988, the Jones San Diego system posted an opening that piqued my interest. I was born in San Diego and left in 1969 when my father was transferred to Lancaster. I'd always wanted to move back, and here was an opportunity to oversee the headend operations of Jones San Diego. I made the leap in January of 1989.
During my interview in San Diego with Jones I told the story of having to drive up the mountain in Lancaster to sweep snow out of the satellite dishes, once in a tractor, because the dirt road was too snowed over to get up there in a 4×4 even with chains. The San Diego manager I was interviewing with assured me, "It never snows in San Diego!" But in the winter of 1989, we got snow on Mt. San Miguel and there I was driving up a mountain again to sweep snow out of the dishes.
For the next several years, Jones continued to expand its footprint in the area and won an exclusive deal with the builder of the then new Otay Ranch development. We also won a franchise to build in the then booming San Jacinto area. I spent a week in a mobile home on top of the San Jacinto mountains with a satellite dish on a trailer, a receiver and a spectrum analyzer watching for terrestrial interference. And soon after, led a team of technicians in building a brand new headend at that site.
Back in San Diego, Cox Cable was having trouble with these whipper snappers at Jones. Cox had a 36-channel (300 MHz) system with its headend on Cowles Mountain. Its 12 GHz CARS microwave transmitter fed a number of receivers around San Diego but the building and tower were nearly full. Jones on the other hand was on Mt. San Miguel with a shiny new 450 MHz microwave transmitter, more than 45 channels active and plenty of tower space to expand. And the transmitter was expandable to 550 MHz. To mitigate inversion layer problems with OTA reception of the local broadcasters, we put in 23 GHz microwave links from those that had their transmitters on Soledad.
The Move to Cox
Cox began making offers to Jones to buy out the San Diego system but Jones would have none of it. This went on until 1992. Cox finally made an offer that Glenn Jones could not refuse. While the sale was pending various reviews and approvals, Cox posted for an opening that once again, fit me to a tee. The size of Cox San Diego dwarfed that of Jones San Diego, and there was no guarantee that Cox would absorb the Jones employees. Both companies were Top 5 MSOs at the time (Cox still is) and with the sale of Jones San Diego pending, I made the leap to Cox. I joined the company in January 1993. As I recall, Cox had about 40 or 45 analog channels at the time.
By that time, Cox had built a new headend at its office on Federal Blvd. It was a 450 MHz headend that used fiber optics to feed neighborhoods rather than microwave. Cox was an early pioneer in CATV fiber optics and was also experimenting with Sprint in a new technology called PCS, Personal Communications Service. It used low microwave frequencies in the 1.9 GHz region and was much like cellular service except that rather than using cell sites, it used microcells that hung from the cable strand on the poles and used the cable lines as their backhaul. The idea was that with a heavy penetration of microcells, PCS would be superior to cell service and its many coverage holes at that time. PCS also used digital end to end versus cellular's analog at the time. This provided for much superior voice quality. Sprint launched its PCS service in San Diego in the mid-1990's. Their TV and Radio ads boasted that "The replacement to cellular is here!" I thought that was a very catchy and innovative tagline. Cox was kept very busy by Sprint, installing microcells on the cable plant. Sprint's main equipment was located in our El Cajon headend. At some point, they hung a sign on the door to their area in the headend that said, "Largest cell site in the world!" Just prior to their launch, the first PCS call in the world was executed between Cox's Chairman Jim Kennedy at a home in El Cajon and FCC Chairman Al Sikes in Washington, DC.
I should mention that after joining Cox in 1993, I helped oversee the construction of five more state of the art headends in south San Diego county. All of these were built to withstand earthquakes, fire, extended power outages and more. Once the last of those was built, we were able to retire the Cowles Mountain headend and its antiquated microwave system. In 1995, Cox bought out Times Mirror Cable nationwide and we added north San Diego County to our local service area. Three new headends were built to replace TM's Vista site.
Also, somewhere in the mid-1990s as I recall, Cox worked with the FCC and the Mexican equivalent along with XETV to get the first cross border microwave system licensed. This allowed XETV to backhaul its signal to us at Cox and eliminate inversion layer and other propagation issues on the OTA path from Mexico. We also relayed the signal to Time Warner Cable across town to overcome their even worse OTA feed from Mexico.
1998 saw the dawn of a new era.
That year, Cox leveraged its now fully built state-of-the-art fiber optic headends and plant to launch cable telephony and cable internet. Cox had already dabbled for several years with the Prodigy service (competitor to AOL, Compuserve and others). I worked closely with our one internet engineer at the time to help facilitate testing of Prodigy Over Cox. Ultimately though, Cox launched its internet service as a joint venture with @Home, calling its service Cox@Home. Cox called its bundle of video, voice and data The Triple Play. The telephone companies and satellite providers were caught flat footed.
My staff spent months and years continuing to expand the headend network to feed the demand for these new services.
The Digital Era Begins
By this time, Cox had also launched its digital video product which had quality far superior to analog. The technology overcame the noise added to video service by the CATV amplifiers in the headend and out in the neighborhoods. My team seemingly built and rebuilt many hundreds of racks of equipment every couple of years as technology not only marched on but RACED on! What was a 40-channel system or so when I joined the company was now in the hundreds.
Also in 1998, we began to phase out analog TV signals from our system. This involved replacing many tens or even hundreds of thousands of analog STBs with digital units.
In 1999, KGTV began testing HDTV over-the-air on UHF Channel 25. I rushed out to get a digital converter and a DTV television set to sample the signal. Soon thereafter, we began adding OTA HDTV signals to the cable system. My team and I installed new 8VSB receivers and digital multiplexing equipment along with QAM modulators to make this happen. While the OTA broadcasters had selected 8VSB as their modulation of choice, cable operators chose 64-QAM due to its superior compression capability. 8VSB was found to be superior in the noisy OTA environment and was better suited for broadcasters serving viewers with antennas though. QAM would never have worked for OTA. Later we changed to 256 QAM, allowing the packing of more channels in a 6 MHz piece of spectrum.
The HDTV race was on. It seemed that every other month (or less!) a San Diego OTA station launched its HDTV signal and we were quick to install a receiver and put the signal on. Satellite programmers of course quickly joined the HDTV fray. At the time, Cox and DirecTV saturated the OTA airwaves with ads boasting the number of HDTV channels carried, each trying to top the other. These were heady times.
All of us were so new to digital television that we were feeling our way through. At first, lip-sync delay was a huge challenge. I remember calling the local broadcasters pretty frequently to ask them to adjust their encoder to get video and audio synced up. As we well know now, some viewers were more sensitive to lip sync delay than others. One or two local broadcast engineers were much less sensitive to it than I am and relied on me as their ears and eyes to help them get it synced up. As well, none of us had especially good digital television test equipment, and even with what we had, we weren't especially versed in it. I remember us comparing notes and working through issues to get things right. Those are the partnerships I will never forget.
In the early 2000's, Cox San Diego began working with local broadcasters on something called Split Signal. The idea was that the fiber backhauls that had been installed at broadcast facilities a few years earlier would be leveraged to carry different Cox ads than what were broadcast over the air. This would facilitate doing what we called an acquisition ad on the OTA feed and a retention ad on the fiber backhaul. Thus, OTA viewers would see an ad with a special installation deal with incentives while our cable customers would see ads for discounted prices on upgrades or internet/telephony additions. It was a brilliant scheme. The task of coordinating equipment buys, deliveries and installations with the local broadcast engineers fell on me personally. There was only one problem. I knew nothing about modern day digital ad insertion and automation nor anything about broadcaster's internal plant–it was baptism-by-fire. Thankfully, I already had great working relationships with all of the area broadcast engineers and we worked together to stand these systems up at KGTV, KFMB and KNSD. Soon after came KSWB and the stations run by Entravision and Televisa. These systems are for the most part still operational although some are temporarily offline and will be replaced soon with new state of the art equipment. I won't be around to help with that, unfortunately.
In the summer of 2017, we replaced the reflector and much of the support steel on our 7-meter Simulsat dish. It took my breath away when the crane lifted the old one, a monster of an antenna, off the base. The picture here shows the new reflector being set on the frame.
Now, the world is moving to IP video inside our plants, on our backhauls, and to our viewers. It reminds me of our transition from analog to digital. We have new technologies and technologists. Those of us who remember working with NTSC had to adapt to MPEG2 and all of its digital intricacies. We made it through that and now we are moving to IP. That, too, has been foreign to us but we are learning quickly and hiring IP centric engineers. One can only wonder what's next. Cox is moving to MPEG4 and has already launched IP video products to the home. It's been fun being a part of that, and my staff will carry the torch going forward.
Problems, Problems
I've also been asked about disasters that I have experienced. My first was the snow thing with the tractor described earlier. A far cry from, say, hurricanes on the Gulf Coast. I did experience the fires in San Diego in the 2000s, though. The 2003 fire cut off our service to Ramona and San Diego Country Estates. The 2007 fire burned through our fiber optic feed from our Federal Blvd headend to the north county along our eastern route through Poway and the east county. The fire continued to race through the canyons toward the coast. It came close to our coastal fiber route and would have cut off our service to all of north county since the east route was already down. Immediately after both fires, we ran new multi-fiber sheathes laying on the ground to temporarily restore service because all of the telephone poles were burned down for many miles. In the case of the 2003 fire, my team and I stood up OTA antennas, receivers and modulators to restore some semblance of service in Ramona before the fiber was back up so that those folks could watch local news. They, too, were in immediate danger and needed information provided by local television stations.
In September of 2011, we had the great San Diego power outage. Much of San Diego County was without electricity for at least eleven hours. Cox headends are built for many hours of backup power, both DC and AC (CATV headends run on both). Batteries protect us from short outages and generators protect us for much longer. But not long enough to endure what we were hearing from SDG&E. Command stations were set up around the county. I was in our El Cajon headend along with our VP of Engineering. We monitored various systems and helped coordinate emergency propane deliveries to keep our headends operating. In the field, many or most of our power supplies are fed by propane generators to keep things up in case of a power outage. Field techs were deployed to connect portable generators to our power supplies that were on battery only without propane generators. If by some chance you had power at your house, you had Cox service running thanks to our efforts behind the scenes.
Retirement
Now though, it's time for me to go on to a new chapter in my life. I will share that after 43 years in the cable industry, it's a little surreal. I've lived and breathed providing great service to cable viewers the vast majority of my life. I've kept close watch on things, even on my days off or on vacation. I've stayed in tune with technical developments for what seems like forever. I've been in contact with many SBE 36 folks for 27+ years. It will be a vastly different world for me in my new chapter of life. I have been a ham radio operator (NE6I now) since 1972 and still enjoy operating and especially contesting and chasing DX and operating awards. I will continue that.
I also have my eye on photography as a new hobby. I can frame a picture pretty well but haven't learned much about all of the many controls on my DSLR. I plan to take some courses to rectify that. And I have been an avid wakeboarder since the late 1980s. I was introduced to waterskiing in 1986 and gravitated to wakeboarding when that came along a few years later. I do love the water! Always wanted to surf and one of my lovely daughters took me on a learn to surf session a few years ago. I did actually stand up and surf a short distance, so I will check that off the bucket list. But I will say this…If you aren't in your teens or twenties, it's MUCH harder than it looks! I came home pretty beat up and with my tail between my legs. I doubt I will try that again!
My sincere thanks to all of you for being such great partners since I came to San Diego in 1989. I really appreciate it!