According to Director of Engineering J.R. Rogers, the San Diego Entercom station cluster is all nestled into their new facilities across the street from iHeartMedia at 9665 Granite Ridge Drive.
Unlike their cramped studios at CBS on Linda Vista Road and Entercom (formerly Lincoln Financial) on Murray Canyon Road, the new location has 14 studios, including a performance hall, video production and edit suite, five live FM studios, five production-edit studios, and two voicetrack studios.
The  Entercom suite, with Sunny FM (KXSN 98.1), Alt 949 (KBZT 94.9), and KSON Country (now at 103.7), moved first at the end of 2017. The old CBS cluster, The Fan (KWFN 97.3) and KYXY 96.5 joined this year.
J.R. said of the project, "We began moving in the first part of January and continued to move stations until March. It was a difficult move because we were still building while moving stations in. Our former landlord in Mission Valley refused to extend our lease so we had to move 'Ready or Not.' We are not finished with the build as yet. We are out of the panic build stage and into the 'What's Missing' stage. With that, there is also quite a bit of new technology that has to be learned and mastered."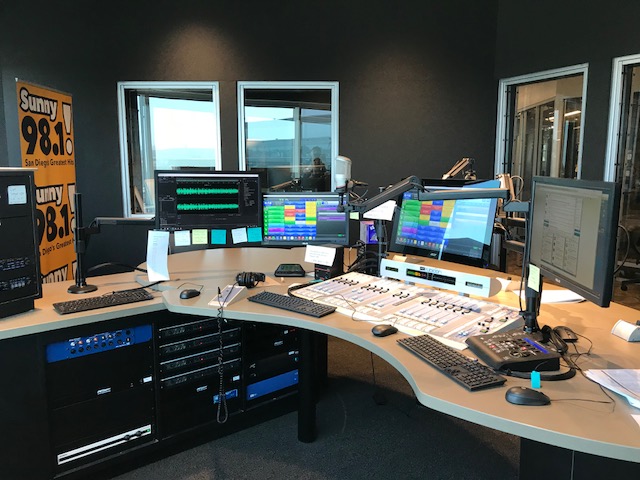 That "new technology" included SAS and their Dante AoIP as well as WideOrbit automation that neither station group had used before.
Integrator on the project was PME of Chicago.
In addition to J.R., the local technical crew includes Bill Eisenhamer, Chief Engineer for KBZT, KXSN, and KSON; Mike Prasser, Chief Engineer for KYXY and KWFN; and Steve Cilurzo, Assistant Chief Engineer to Mike and Bill.