System: KI6KHB/F, DR1X Yaseu Fusion Repeater running in Auto mode, output is 25 watts TPO on a Yagi pointed South East above the roof line at the KGTV site
Location: KGTV Facility on Mt. Soledad in La Jolla
Frequency: 445.540 – (440.540 input), PL 88.5Hz CTCSS, DSQ code: 36
Note: This repeater is coordinated with SCRRBA and is co-channel with the WB6AJE repeater on Mt. Wilson in Los Angeles. Outside Oceanside there may be overlap between the two machines so we're suggesting only use the repeater if within the county.
Huge thanks to Chris Durso, Gary Stigall, Bob Vaillancourt, John Bush and many others that made this year long project a reality.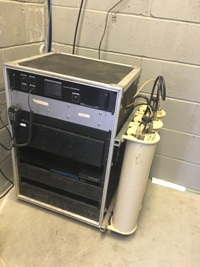 NET:
When: Wednesdays @ 1900 (7pm)
Where: Mt. Soledad UHF Amateur Radio Repeater      http://sbe36.org/amateur-radio-repeater/
445.540    – 5mhz      pl 88.5     FM
Who: Matt Anderson (KI6KHB) will be net control, we will start with group information and member check ins/traffic for the net
Suggestions or comments shoot me an email (MattAnderson@iHeartMedia.com)
Please throw this in your calendar, going to shoot for every Wednesday until further notice.
The SBE sponsors a nationwide HAMnet on the 1st and 3rd Monday of the month at 6pm Pacific time. We hope to link in the net over the internet to our repeater soon. For now, using Echolink you can check in via Echolink – Node 96150