For the first time since KAAR 39 signed on in 1965, there are no TV signals above 600 MHz in the San Diego/Tijuana market after T-Mobile purchased the spectrum in a 2017 auction. On March 14, 2019,
KBNT switched to channel 24 from 25 at 6 AM
KNSD/KUAN switched from 40 to 17 at noon
XHDTV Tecate shutdown 47 to reconfigure antennas for 21 (and has done so as of Friday, March 15)
KHAX-LP Vista shutdown to reconfigure for 25
If you are an over-the-air viewer with a TV antenna rather than cable or satellite and you can't receive some of the local TV stations, you will need to perform a RESCAN on your TV for the new channel lineup. Press your remote control MENU button and find the SIGNAL or ANTENNA submenu, then select AIR (not CABLE), then AUTOPROGRAM or SCAN or RESCAN. Not all TVs have the same menu titles, so you may have to consult your TV set owner's manual. Yeah, sorry you threw that away. Check out YouTube, maybe.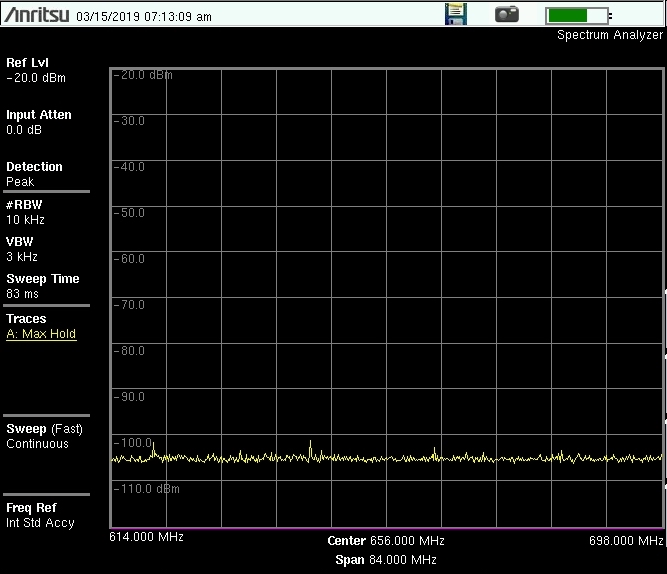 Let's look to see what's going on, channel by channel. New information in bold:
15 – XHTJB, public TV "Canal Once" (channel 11) moved from channel 46 in September 2018. The FCC website has this allocation placed in Ensenada, but they're actually in Tijuana.
16 – KDTF, Entravision's LATV outlet, moved from channel 51 on Mt. San Miguel on November 16th using their same broadband panel antenna. They were granted a Construction Permit on February 21 to allow them to stay on 16.
17 – KNSD, NBC Universal, moved permanently to 17 on noon, March 14th. They had installed a new Rohde & Schwarz transmitter and UHF Dielectric Pylon antenna installed by Wireless Infrastructure Services ("WIS").
19 – KPBS, San Diego State University's PBS outlet, had their antenna installed by WIS in 2018 and is due to move from channel 30 on March 26, 2019, taking over channel 19 from KSWB, who is moving to 26.
20 – KZSD, a UHF outlet of Scripps, is up on Mt. San Miguel and broadcasting a repeat of their channel 10 lineup since November 2018.
21 – XHDTV Tecate, an Entravision-leased signal from Cerro Bola, moved from channel 47. Manuel Rojo says they installed a new 32-panel antenna array.
24 – KBNT-CD on Mt. Soledad made the switch from channel 25 on March 14, 2019, at 6:00 AM, according to Chief Engineer Manuel Rojo. They have a new Harris transmitter and new antenna installed by Wireless Infrastructure Services at the KGTV transmitter site.
25 – KHAX-LD Vista has a CP to get exclusive use of channel 25. KBNT-CD switched from 25 to 24 on March 14.
26 – KSWB, Tribune's Fox affiliate, had WIS install their Dielectric slot pylon antenna last week. They'll move from channel 19 on March 26, delayed due to construction delays at KVCR San Bernardino, channel 26. KVSD-LD from Mt. Woodson received a Silent STA on October 15, 2018 (this fixes a previously erroneous report that they did not file for the STA).
27 – XHBJ Tijuana moved from 44 before November 30, 2018.
30 – KPBS will move to 19. Tijuana will take over this channel after that date.
31 – KSDY-LD changed from 50 to 31 on February 8, and was granted their construction permit for channel 31 on February 21. KTCD-LP will share channel 31 from Mt. Woodson at 140 W ERP omni-directional.
35 – KVSD-LD has a CP to take over channel 35, but they filed with the FCC for a Silent STA in November 2018 and have yet to return to the air.
39 – KZSD-LP STA on Mt. San Miguel became KZSD-LD and moved to channel 20 in time for their November 30, 2019 T-Mobile takeover date.
40 – KNSD-TV moved to channel 17 on March 14, 2019.
47 – XHDTV went off-the-air March 14 and is expected to move to channel 21 soon.
50 – KSDY-LD moved to channel 31 on February 8, 2019.
51 – KDTF Mt. San Miguel moved to channel 16 using an STA before the November 30, 2018 T-Mobile deadline.